---
Welcome!
Thank you for visiting our site. We are so glad to have you here!
You are at the right place to experience our beautiful kitchen sponge cloths with our exclusive design. They will make what had seem to be the dreaded task of keeping your whole house clean and beautiful all year around, to actually be such a simple task. You will fall in love with them at first use, plus they are also eco-friendly!
---
Featured Products
Our Full Collection of Products
Eco-Friendly Cleaning Sponge Cloths
If you have never tried these cleaning dish cloths then you are in for a treat. Also known as Swedish dishcloths, once you try them you will never go back to your old smelly kitchen and bathroom sponges and wipes.
These eco-friendly cleaning sponge cloths with stylish prints and bright colors will complement your home and kitchen décor.
They become luxuriously soft and very absorbent when they are damp and they are great for cleaning virtually streak free wet and dry messes all over your home.


Shop Now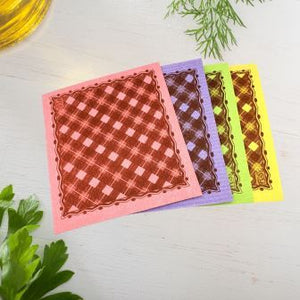 Blogs & Articles
Learn more about how to use and where to use your cleaning sponge cloth around your home.
Sponge cloths, Swedish dish cloths, sponge dishcloths. What are they? You have seen them lately with their cute designs. Learn here what they are and how to use them.